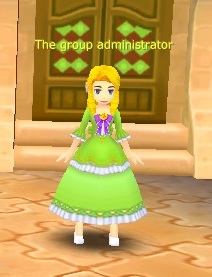 Creating a Guild
In the world of Fairyland 2, a guild is known as a family. To create a family you must be level 25, have a name in mind that hopefully isn't taken, and 1500 Stars. You need to go to the group administrator at (216,262) to create a family. She is located in Jean Village, just North-West of the Bank.
The guild name must be at least 4 characters long and can't be more than 8 or 9 characters. You can't add special characters, only Alphabets and numbers, and must be in one one word. (No Spacing, Commas, Periods etc)
---

Guilds
Guilds are places that players can gather together to complete quests, help each other levelup, and find parties easily to go boss hunting for loot.
Guild Benefits
Joining a guild has benefits too, Guild leaders can post quests which other members can complete, and this earns the guild Guild 'Hearts'. These Hearts can be used to upgrade Guild item storage space, and purchase items which the Guild Leader can use in battles to help members.
Guild Quests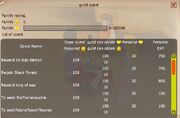 Guild Quests involve turning in quests for the guild to increase its level, which in turn is used to unlock more benefits for its members.  Stars  and Hearts are awarded upon completion of quests, both to the guild and to the player who completes the quest. In some pictures, the Hearts are also referre d to as Love.
The Guild Master (GM) who sets the Quests has to pay to put the quest up, some sort of a 'bounty' system as you will. The Stars are deposited into the guild by the GM, and from then on can be used to post quests.
(More info to come)