Emoticons are another feature in FL2 that makes it a funny and engaging community.
Emoticons can be accessed by pressing the "Z" button, and the selections are there for players to customize and explore. Certain quests also require you to use emoticons such as the "Sit', "Beg" and "Lie Down" to progress - The Jack and the Beanstalk main storyline one of them.
Other more interactive actions can also be selected by clicking on a players picture, and right clicking to select the "Hug", "Knee Pillow" and "Kiss" actions, which frankly, are freaking cute.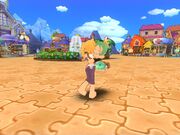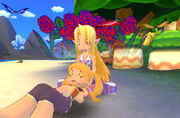 Ad blocker interference detected!
Wikia is a free-to-use site that makes money from advertising. We have a modified experience for viewers using ad blockers

Wikia is not accessible if you've made further modifications. Remove the custom ad blocker rule(s) and the page will load as expected.